Toshio Tatara, PhD.
INPEA Founding Member, Regional Representative to Asia,
and Life Long Board Member.
A Greatly Repected Elder who protected Elder Rights
in the US and Japan.
April 23, 2012 Tokyo, Japan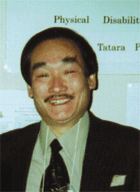 Toshio Tatara, PhD.
INPEA's Memorial Bridge carrying messages from Caring Friends and Colleagues to the Family and Friends of our cherished member, Luz Barreto.

Click here to visit INPEA's Message Board
INPEA's Memorial Bridge Message Board.
A Place to Create a new comment.
Reply to an existing comment.